High Performance VPS
Unleash the full power of our AMD EPYC-based VPS to create and run all types of applications. At our company, you can expect unparalleled performance, absolute reliability, and unbeatable pricing, just like with all our products.
RAM
Processor
Disk Space
Connexion
OS
Monthly Pricing
4 vCPU


(AMD EPYC 7H12)

40Go NVMe

200 Mbps

Linux

8,79 €

excl tax

Order
8 vCPU


(AMD EPYC 7H12)

80Go NVMe

300 Mbps

Linux

17,58 €

excl tax

Order
16 vCPU


(AMD EPYC 7H12)

160Go NVMe

400 Mbps

Linux

35,17 €

excl tax

Order
32 vCPU


(AMD EPYC 7H12)

320Go NVMe

500 Mbps

Linux

70,34 €

excl tax

Order
Good news! You have root privileges on all our servers. You are free to do whatever you want!
Save time with our tools adapted to your needs
Automated backups
Because your data is the most precious thing, we protect it with our automated backup solution in another datacenter with a different location.
On-demand snapshot
Don't be afraid to make changes to your service, secure your actions with a snapshot of your VPS, restorable at any time.
KVM console
What could be more comfortable than having a KVM console connected to the server's screen, and accessible even if your server no longer has a network due to a firewall change.
Monitoring
Our VPS are equipped with automatic monitoring of processor, memory and network performance. This allows us to optimise your server so that it runs at peak performance.
Vulnerability alert
We protect your server with automatic vulnerability detection via an external scan. If necessary, we will also help you solve any VPS-related problems, so that you can enjoy maximum security.
See what you can save
The billing of your service is completely predictable and at an unbeatable price, which protects you from any surprises.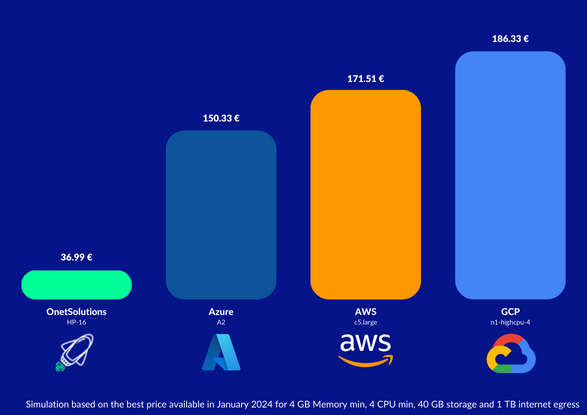 Virtualisation technology
KVM
KVM console via VNC
Remote reboot
Automatic installation
Protection against DDOS
Graphical monitoring
Connectivity
1 Gbps
NVME storage
Daily backup
Snapshot on request
Processor
AMD® EPYC® 7H12
Benchmark Single Thread processeur
3466
Type of memory
DDR4 3200 Mhz
Guaranteed availability
99.99%
Operating system
Debian 9/10, Ubuntu 16.04/18.04/20.04, Centos 6/7/8, Rocky Linux 8, Almalinux 8, Cloudlinux 8...